Accessorize and Upgrade Your 2004-2008 Ford F150
Are you looking to freshen up your truck with 2004-2008 F150 Accessories? You came to the right place! For instance we carry a full catalog of 2004-2008 F150 accessories, upgrades and quality parts. As a result no matter what your needs are from simple add on accessories to a full list of upgrades we have what you need. Additionally we specialize in parts that will upgrade how your truck looks such as F150 front grilles and body styling upgrades. Secondly we also offer upgrades to make your F150 perform and handle better both off road and on the street. Finally the staff at Driven By Style has been shipping parts to F150 owners all over the country since 2009. In other words our friendly knowledgeable staff is standing by to assist you with all your F150 needs.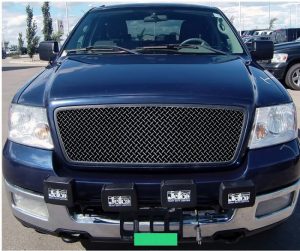 One of the first upgrades many F150 owners perform is the front grille. Check out our selection of 2004-2008 F150 Front Grilles from top name brands including APS, T-Rex and Spyder. As a result you can update the look of your F150 to match your personal taste as well as to look more modern and stylish. Most grilles are an easy bolt on installation, however some will require cutting and filing the OEM grille shell. All grilles come with hardware and instructions for a hassle free simple installation. We are constantly updating our selection of F150 grilles with more than 80 to choose from.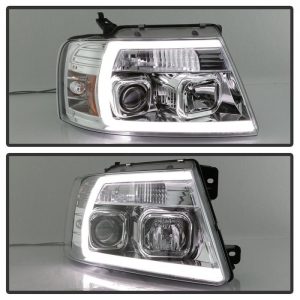 Upgrading the headlights is something all 2004-2008 F150 owners should consider at this point. Harsh conditions such as snow, ice and harmful UV rays can do a number on the plastic lenses of your OEM headlights. As a result we offer a full selection of more than 20 quality aftermarket 2004-2008 F150 headlights to choose from. Our headlight styles include projector style, halo and light bar styles and more.  Additionally we offer most of our lights in both chrome as well as black housings to give that aggressive look. Weather your OEM headlights are in good working condition or not our upgraded headlights will give your F150 a more more modern look and improve lighting performance for night time driving.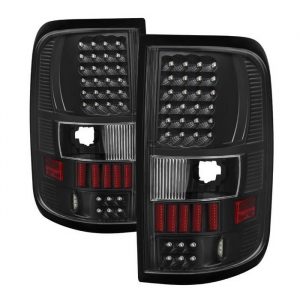 One of the easiest ways to improve the look of your F150 is replacing the old OEM tail lights with fresh modern LED styling and technology. For instance we carry more than 30 different 2004-2008 F150 tail lights to choose from. We only carry high quality brands that you can trust. Featured brands for F150 tail lights include Spec-D, Spyder and XTune. Many styles to choose from including LED, Light Bar and more. Finish options include black, chrome and red lens models. All tail lights feature easy plug and play installation requiring just basic hand tools. Upgrading your F150 tail lights is one of the most cost effective modifications you can do that makes a big difference in the look of the truck.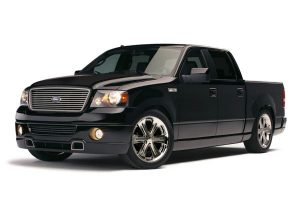 Are you ready to take your F150 to the next level? Check out our catalog of 2004-2008 F150 Body Kits. We carry F150 body kits from quality brands such as 3D Carbon, VIS Racing and Duraflex. Installing a body kit is the perfect upgrade for a street truck with lowered suspension and gives the truck a much more aerodynamic appearance. From mild to wild we have your F150 body kit needs covered.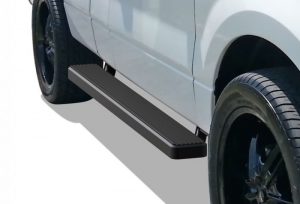 Weather you use your F150 as a work truck or your primary transportation we can all appreciate a set of running boards. Our 2004-2008 F150 running boards will add styling and most importantly convenience when getting in and out of the truck. All running boards include hardware and installation instructions for a hassle free easy installation. We offer more than 20 different running boards styles to choose from with styles to suit everyone's tastes and needs.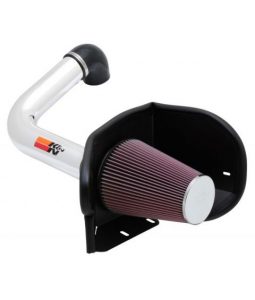 A new air intake system makes a big difference in how your F150 performs. For instance we offer more than 15 options for 2004-2008 F150 air intakes. A performance intake kit replaces the factory air box which is designed to be as quiet as possible. By replacing this restrictive OEM air box with a free flowing design and performance air filter for maximum power output. Not only will a quality air intake system improve horsepower and torque but also improve your throttle response and fuel economy. A cold air intake will also alter how your vehicle sounds and gives a much more aggressive and performance oriented tone.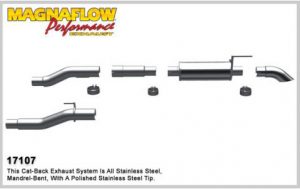 Do you need to replace the exhaust system on your F150? Make sure you check out our 2004-2008 F150 exhaust systems we offer. Weather you are upgrading due to your exhaust being worn out and needing to be replaced or you simply want to add some power and improved sound we have you covered. The OEM exhaust systems are very restrictive and designed to be as quiet as possible. Many F150 owners are looking for better sound as well as improved power and throttle response. Our quality exhaust systems from brands such as Flowmaster, Magnaflow and Borla really make a big difference on all trim levels of Ford F150 trucks.
Driven By Style LLC Expert Staff
If you have any questions please feel free to ask. We have on staff experts that install these types of products as well as manufacture our own line of in house carbon fiber and fiberglass parts at Driven By Style. Please follow our composites team on Instagram.

Driven By Style LLC 10 Year Anniversary
Automotive experts not just a call center!
Ford F150 Accessories Specialists
Call us at 888-669-1154
Chat with us live