Accessorize and Upgrade Your 1997-2003 Ford F150
Are you shopping for 1997-2003 F150 accessories to give your truck a bit of a makeover? You came to the right place. For instance we specialize in 1997-2003 F150 accessories and upgrades. Additionally we have a full catalog of upgrades including front grilles, side steps, custom hoods, body kits, headlights, led tail lights and more. Secondly we also offer performance and suspension upgrades to get the most out of your F150 off-road or on the street. Finally the staff at Driven By Style has been serving F150 owners since 2009 and has the experience you can trust. We are continually updating our catalog and always adding new F150 parts to our site.
Featured Products: Check out our most popular 1997-2003 F150 Accessories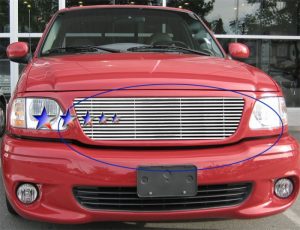 Are you looking to upgrade the grille in your F150? Check out our catalog of 1997-2003 F150 grilles we offer. A front grille is a great upgrade that does not cost alot but makes a big visual impact. Many F150 grille styles available in finishes including stainless steel, chrome, aluminum and black. All grilles come with hardware and installation instructions for a hassle free installation. Most grilles are a simple bolt on installation however some do require cutting and trimming the stock outer grille shell.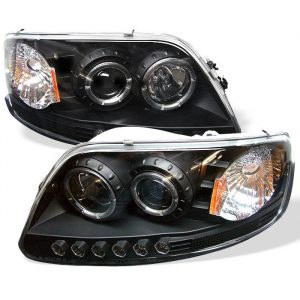 Do you need to replace or upgrade worn factory head lamps on your F150? For instance we carry more than 20 different styles of 1997-2003 F150 headlights to choose from. The elements can be brutal over time on the stock plastic lenses and it is common to see them start to haze over from UV damage as well as take chips and cracks from exposure to rain, snow and ice conditions. Our aftermarket head lights feature new modern styling that really gives your older F150 a face lift. We carry projector headlights as well as models with halo and light bar accents. Available finishes include black and chrome housings to suit your personal taste.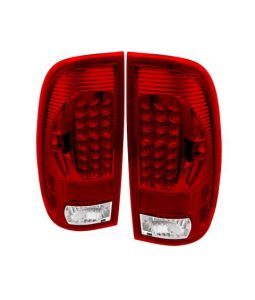 Modernize your F150 with updated styling by replacing your worn and weathered OEM tail lights. For instance we offer more than 40 styles of 1997-2003 F150 tail lights to choose from. Available styles include LED tail lights, alteza style tail lights and more. We offer our F150 tail lights in a variety of finishes including black and chrome housings as well as versions with clear and red tinted lenses. We offer only high quality tail lights from brands including Spec-D, Spyder Auto and XTune. Upgrading your tail lights only takes a few minutes to install using basic hand tools. All tail lights feature a plug and play installation.
Weather your F150 is your work truck or your daily transportation a set of running boards is a great investment. Check out our 1997-2003 F150 running boards and side steps we offer. As a result these running boards will not only make your truck look great, it'll be a lot easier getting in and out of your truck. All our running boards come with installation hardware and instructions for a hassle free installation. Most running boards can be installed in 1-2 hours using basic hand tools and a drill. Browse from over a dozen available styles and finishes to suit your personal taste and needs.
Driven By Style LLC Expert Staff
If you have any questions please feel free to ask. We have on staff experts that install these types of products as well as manufacture our own line of in house carbon fiber and fiberglass parts at Driven By Style. Please follow our composites team on Instagram.

Driven By Style LLC 10 Year Anniversary
Automotive experts not just a call center!
Ford F150 Accessories Specialists
Call us at 888-669-1154
Chat with us live